ORGANIC SOYBEANS
It's an organic processor's nightmare: a buyer calls to say that your organic product tested positive for genetically modified organisms (GMOs). The processor can't sell the product as organic and loses money. Such unfortunate contamination incidents are increasing in the organic industry.
What makes the following incident even more troubling is the fact that a shipment of organic soybeans contained a high level of GM soy—much more than would have been caused by commingling with a small amount of GM soybeans or by cross-pollination.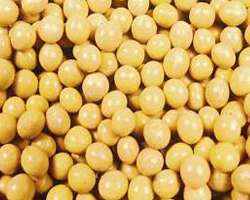 SOYA CHUNKS
We have accomplished an active and diverse position in the market by providing a finest quality collection of Soya Chunks to our esteemed patrons. Specialists make use of contemporary machines while preparing the entire range. Offered collection is mostly used to make dishes at hotels, homes, restaurants and diverse other places.
Features
Long shelf life
Excellent taste
Rich aroma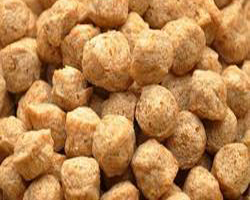 SOYA FLAKES
Soya Flakes/Grits manufactured by using only highest quality soybean seed as the starting material. These are cleaned twice to remove all foreign material. After cleaning, the beans are conditioned, cracked, de-hulled and rolled into flakes. The flakes are treated to a solvent bath that extracts the oil. After highly efficient extraction, they are desolventised and toasted to obtain required NSI level. The desired consistency of the product is obtained through the Vibro grader.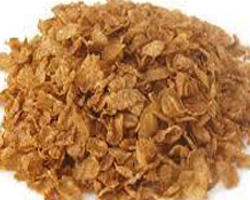 SOYA FLOUR
Soy flour, derived from ground soybeans, boosts protein, brings moisture to baked goods, and provides the basis for some soymilks and textured vegetable protein. This versatile ingredient improves taste and texture of many common foods and often reduces the fat absorbed in fried foods. The taste of soy flour varies from a "beany" flavor to a sweet and mild flavor, depending on how it is processed. Soy flour comes in small bags in the baking or natural foods section of supermarkets. In natural foods markets, health food stores, food cooperatives, and food buying clubs, soy flour is often found in bulk bins. Many customers order soy flour through mail order houses and on-line shopping. - See more at: http://www.soyfoods.org/soy-products/soy-fact-sheets/soy-flour-fact-sheet#sthash.r89RQ5SX.dpuf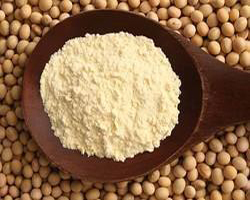 ---